Luke Joly-Durocher
Missing since: March 4, 2011
Year of birth: 1990
Age at disappearance: 20
Gender: Male
Bio group: White
Eye colour: Brown
Hair: Black, curly, short
Teeth: Braces on upper teeth
Height: 173 cm / 5 ft 8 in
Weight: 68 kg / 150 lb
Build: slender / thin
Disappeared in 2011
Luke Joly-Durocher, of Témiscaming, Québec, was 20 years old at the time of his disappearance.
He had been visiting friends in North Bay and was last seen on Friday, March 4 th, 2011 at 11:54 p.m., when he was refused entry into a licenced establishment at the corner of Main and Wyld Streets.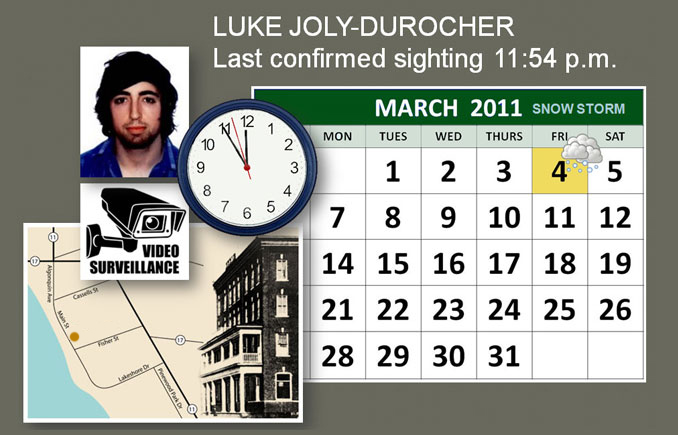 He was reported missing to the North Bay Police Service by his parents on March 7th, 2011.
Items seized
At the time of the initial investigation, police seized Luke's dark navy American Eagle jacket and his prescription eye glasses from a residence on Sherbrooke Street where he had been staying with friends.
Also seized from the same residence was Luke's mobile phone. Phone records show that Luke's last communication was a text to his father at 8:51 p.m. on March 4th, 2011.

On that snowy night in March 2011, Luke was also wearing the purple belt shown in the photo above. The belt was not recovered.
Video surveillance
A CCTV camera from the licenced establishment where he was last seen captured Luke and his friends arriving at 11:54 p.m.
Luke and his friends are also captured by video surveillance inside at the door where he is refused entry.
Moments later, Luke is seen walking out the door alone. This is the last confirmed sighting of him.
Map
Bank card found
On March 15th, 2011, a pedestrian contacted police to report that Luke's bank card was found on the 500 block of Sherbrooke Street. Luke's bank account was last accessed on the day he went missing on March 4th, 2011, when he withdrew $20.

Billboard
Up to $50,000 Reward
Over the past ten years, North Bay Police Service investigators have conducted hundreds of interviews, and followed up on as many leads and tips, trying to ascertain what had happened to Luke. This high-profile investigation has been the subject of much media and community attention.
On the fifth anniversary of Luke's disappearance the North Bay Police Service, with the assistance of the Ontario Provincial Police and the Ministry of Community Safety and Correctional Services, announced that we are offering a reward up to $50,000 to anyone who comes forward with information concerning the person or persons responsible for Luke's disappearance.
It is our collective belief that this investigation is solvable and we encourage anyone with information to come forward.

Media coverage
March 2021
October 2019
In March 2016, on the fifth anniversary of Luke's disappearance, the North Bay Police Service hosted a media conference with members of Luke's family.
Submit a tip
Anyone with information that may help us with this investigation is asked to call the North Bay Police Service at 705-497-5555 (and select option 9 to speak to a police officer), or visit us in person at 135 Princess Street West, North Bay.
For those who wish to remain anonymous, contact Near North Crime Stoppers by telephone toll-free at 1-800-222-8477, or submit a tip online at nearnorthcrimestoppers.com.