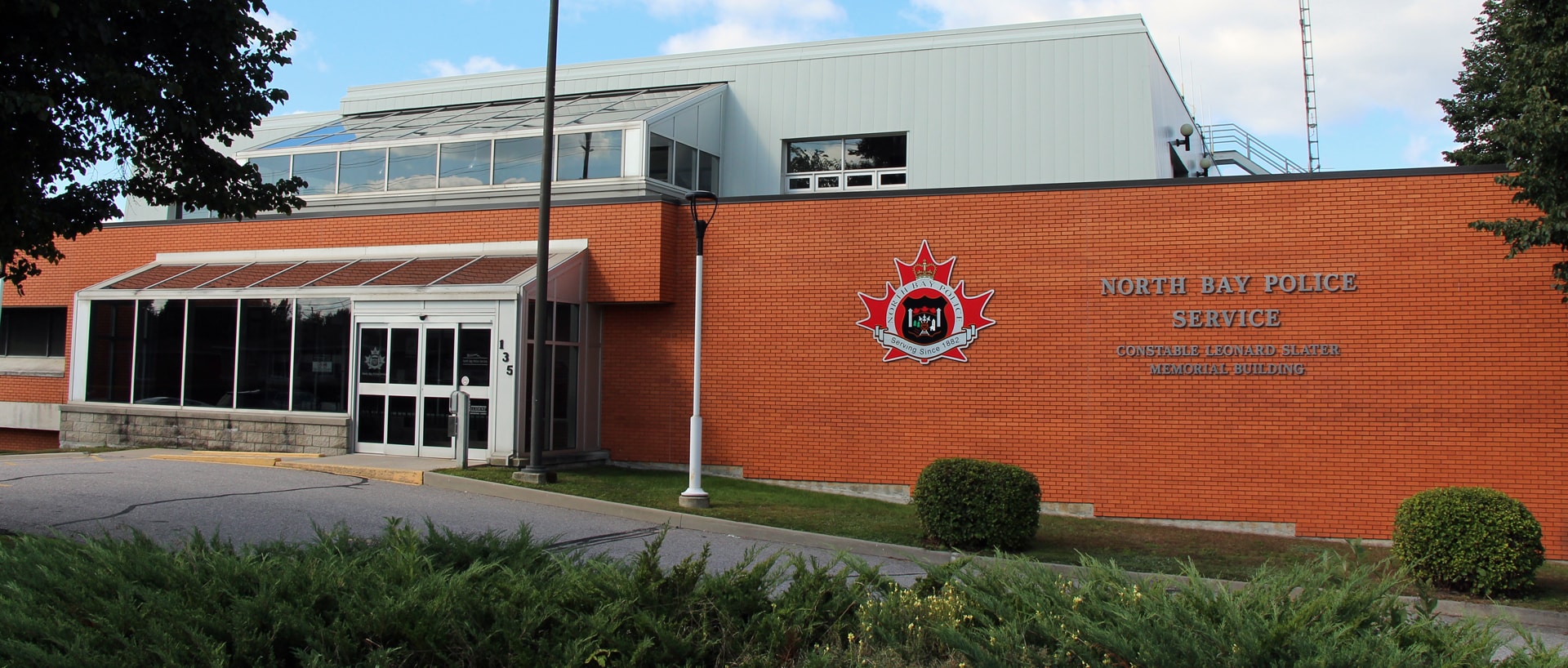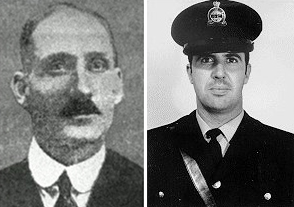 This page is dedicated to the memory of Detective Fred Lefebvre and Constable Len Slater, two North Bay Police officers who died while on duty.

Heroes in life, not death
Detective Fred Lefebvre
On May 18th, 1923, Detective Fred Lefebvre was shot by a fugitive who escaped from the Court House. Read details of his story below.
Constable Leonard George Slater
On December 1st, 1973, Constable Leonard George Slater responded to a report of a man with a gun in a downtown North Bay parking lot. In less than four minutes he was shot dead. Read details of his story below.

Detective Fred Lefebvre (1877-1923)
About Fred Lefebvre
Fred Lefebvre was one of a family of 12 children. Born in 1877 in the little village of Alice near Pembroke, he grew up in that area and started his work career in the lumber business. At age 19, he moved to North Bay and took on his first policing duties. The following year, he married Matilda St. Michael, his teenage sweetheart from Pembroke. They lived in several different locations over the years, including Sault Ste. Marie, Cache Bay, Haileybury and Sturgeon Falls, before he returned to North Bay to become a provincial police officer and then later joining the North Bay Police Service. He lived in North Bay with his wife and four children and, at the time of his slaying, he headed the small force's Criminal Investigations Unit.
Just prior to his 15th birthday, Leo Rogers was found guilty of a series of break and enters. The Judge sentenced him to seven years at one of the most feared facilities in the country, Kingston Penitentiary. There, he attacked guards on several occasions.
"I believe you are dealing with a criminal too dangerous to be at large," one time Chief of Police William Raynor, wrote in a letter to the parole board. Even as a teenager, "he was the worst man I ever had to deal with." He returned to North Bay after seven years and was soon in custody for robbery. Rogers escaped from the North Bay Court House May 17 th, 1923. Police suggested a loaded gun had somehow been slipped to him amid the lax security of a crowded 1920s courtroom. That night, the fugitive himself phoned police and invited them down into an ambush near the waterfront in West Ferris. In the ensuing gun battle, one officer was shot in the thigh. By midnight, a posse of 20 men was formed to spend the night guarding the area and looking out for the fugitive.
Surprisingly, Rogers stood his ground, remaining motionless throughout the bug-infested night. As the next day dawned, he began firing again from his position behind a clump of trees. The posse rushed him, but he was able to run to the safety of a nearby barn. Within minutes, it was riddled with bullets, but Rogers escaped. Then he ran another 500 yards to the point where Mosquito Creek (now Parks Creek) meets Lake Nipissing. Members of the posse let him have it with all the firepower they had - 200 rounds of ammunition. Still, he managed to zigzag through the hail of bullets and was not hit.
As the morning sun began to rise in the east at 5:30 a.m., Rogers cut down to the lakefront where he faced a standoff with Lefebvre - the 45 year old plainclothes detective who had arrested him during a fierce struggle years before.
The two men were roughly 100 metres apart. Rogers, brandishing a Winchester Savage rifle, had the cover of a tree, while the officer, with just his revolver, was out in the open. Lefebvre was felled by a bullet in his abdomen as they fired simultaneously. Rogers ran off into the bush and police lost his trail. "I'm done for. Rogers got me at last," Lefebvre said as he lay dying. "My poor children; kiss my children for me." Fred Lefebvre had made the ultimate sacrifice.
Rogers remained at large. At midnight May 30th, Sgt. John URQUHART, of the Ontario Provincial Police, saw an unknown figure enter Rogers' parents' home on Worthington Street. With the home surrounded, he knocked at the door. Rogers fired at the door, hitting the officer square in the chest, killing him instantly. Though the house was surrounded, somehow Rogers escaped again.
After being on the loose for two weeks after Lefebvre's shooting, Rogers made his last stand at what is now the site of the Waltonian Inn on the south side of Lake Nipissing. A posse surrounded him. When he noticed them and got up to reach for his weapon, he was shot down in a volley of bullets.
A plaque and photograph is on the wall of honour at North Bay Police Service headquarters and North Bay's overpass was named in his honour of his sacrifice.
Constable Leonard George Slater (1941-1973)
About Len Slater
Leonard Slater was born in 1941 and raised in Bracebridge, Ontario. He had a great love of the North. He moved to Toronto in 1960 and later joined the Ontario Provincial Police. He was posted to # 5 District Traffic from May 1964 until September 1968. Eager to return to the North, he joined the North Bay Police Service in October of that year. At the time of his death, Len was married and the father of a 12-year old son, and two daughters aged 8 and 10. In his five years of service with the North Bay Police Service, Len obtained a reputation for being firm but fair and was well-respected by his fellow officers and the members of the community.

On the December 1st, 1973, at approximately 10:30 p.m., Constable Leonard George Slater of the North Bay Police Service responded to a report of a man with a gun in a downtown North Bay parking lot. In less than four minutes, he and a shooting suspect lay wounded. Moments later, fellow officers learned that Constable Slater had succumbed to his wound and paid the supreme sacrifice.
On that night, a local resident, Camille Joseph Ethier, age 24, had been drinking at a North Bay tavern. He became upset, when he observed his friend's girlfriend with another man. Ethier left the tavern and walked across Oak Street to a municipal parking lot. He opened the trunk of his car, removed and started to load a single shot 12-gauge shotgun. A companion attempted to convince him to put the gun away. Ethier paid no heed to his companion.
Constable Gord McCourt was on duty that evening. He had parked a police van on Oak Street, adjacent to the parking lot. A citizen approached Constable McCourt and stated that he had seen a man with a shotgun in the parking lot.
Constable McCourt drove into the parking lot and observed Ethier standing with the shotgun laid across the door handles of a parked car. The second man fled at the sight of the officer. Constable McCourt notified the police dispatcher that he was going to check out a gunman and gave his location. Constable Len Slater, who was booking a prisoner at police headquarters only two and a half blocks away, was advised of the incident by the Duty Sergeant. Constable Slater immediately left the police station to assist Constable McCourt.
Meanwhile, Constable McCourt began to approach the gunman on foot. Ethier responded by pointing the shotgun at the officer. Constable McCourt took cover behind a parked vehicle and drew his service revolver. He ordered Ethier to drop the shotgun. Ethier replied by moving around the car and ordering McCourt to drop his gun. McCourt circled the car, keeping out of Ethier's view and attempted to reach his patrol van.
As he reached into his van to obtain the radio microphone, Ethier fired. Constable McCourt was struck in the left shoulder by a single shotgun blast. Notwithstanding Constable McCourt's wound, he fired four shots from his service revolver as Ethier fled. Constable McCourt finally reached the radio microphone and advised the police dispatcher that he had been shot.
Constable Norm Shillington, also on patrol, heard the radio transmission and immediately responded. Several other officers also responded from police headquarters.
Constable Slater was the first officer to arrive at the scene. He stopped his vehicle on Oak street, adjacent to the parking lot. Constable Slater called Constable McCourt on the police car radio asking for his location. Constable McCourt turned on the flashing roof lights of the police van.
Constable Slater, gun drawn, exited his police car and walked towards Constable McCourt's vehicle. Ethier observed Slater approaching and hid behind a vehicle in the parking lot. As Constable Slater walked by the vehicle, Ethier fired a shot. The shotgun blast struck Constable Slater in the back of the head. Ethier then walked towards Constable McCourt's location. At this time, the second back-up police unit, driven by Constable Shillington, entered the parking lot.
As Constable Shillington attempted to bring his police vehicle to a stop, Ethier aimed his shotgun at the officer and fired. Shotgun pellets struck the car window. Shillington jumped out of the right passenger door and took cover behind the right fender. He fired a shot from his service revolver at Ethier, striking him in the throat. Ethier fell to the ground but got up and ran, hiding behind a parked vehicle. Ethier exchanged shots with Constable Shillington. Constable Shillington approached the parked vehicle and located Ethier on the ground, face down. Within seconds, other back up officers were on the scene.
Officers immediately transported Constable McCourt to hospital in a police vehicle. Constable Slater and Ethier were transported by ambulance. Shortly afterwards, the officers were notified that Constable Slater had succumbed to his injury. Constable McCourt and Ethier would survive their wounds. Constable McCourt would be partially disabled due to his shoulder injury.
On April 20th, 1974, Camille Joseph Ethier was convicted of non-capital murder in the slaying of Constable Leonard Slater. He was sentenced to life imprisonment. Charges of attempted murder in relation to Constable Shillington were adjourned sine die (not proceeded with).